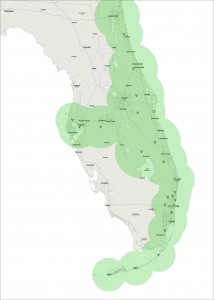 The radios and networks available would hugely surprise the majority of business in Miami, Broward, and West Palm Beach who think two-way radios are old technology. Two-way radios of today don't stop working after a few miles, or sound like your talking in a wind tunnel. Today's radios are well developed and supported by powerful wide area networks. One person holding a radio in the streets of downtown Miami can communicate with a moving vehicle traveling north in West Palm Beach.
The power behind this comes from a large network of repeater towers spanning from the Florida Keys all the way up to Jacksonville. A majority of these towers can be found in West Palm, Broward, and Miami. These towers are linked to each other for the purpose of sending radio signal at any time. Unlike cellphones, radio is instant, there is no connecting, and there is no dialing. With Highland Wireless's Connect Plus and Nexedge systems, An entire team or fleet can be connected at all times instantly!
Who needs the coverage?
Highland Wireless's Radio coverage may not benefit some operations that are based in a single location but the teams and fleets that work all around South Florida find huge benefit in wide area radio coverage! For example, tow truck, taxi, and transportation companies will spare no expense to have the best communication tool in their vehicles. Highland Wireless works around the clock to keep our network up and running to service companies that provide critical services around the clock and rely on instant communication in the moment.
Our tower locations in Miami, Broward, and West Palm:
Key west
Sugarloaf
Marathon
Tavernier
Homestead
Miami x2
Ft. Lauderdale x2
Parkland
Hallandale
Markham Park
Hollywood
Pompano
Boca
West Palm Beach