Highland has a large collection of charities and charitable organizations that we support. Our team is active in participating in what we believe will impact our community for good. One recent outing our team has done was the yearly Sheridan House Goliath Gauntlet race. Sheridan House has a mission to impact the lives of Children and Families in our community. Sheridan House aids single parent homes, house children that are victims of abuse, and works to rebuild marriages for the sake of a better family. For more information on Sheridan House and how you can get involved, please visit their website at: http://www.sheridanhouse.org/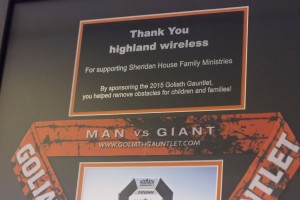 Highland and the team came out to support the cause by running in their obstacle race in October. We not only donated financially, but we supported the event by donating radios for the event staff to use day of. Our contribution, as well as many others, lent to Sheridan House raising $135,956 to support their children's homes!
Watch a recap of the event here: https://www.youtube.com/watch?v=OSIxOtfAvzo 
Lastly, Highland is more than willing to support worthy causes in the South Florida area. We have participated in, and donated to many charitable organization in the West Palm, Broward, and Miami areas. If you have a charitable organization and would like to have Highland wireless serve as a sponsor or help with radio communications support, please contact us at (954) 376-7400 and we would love to participate!