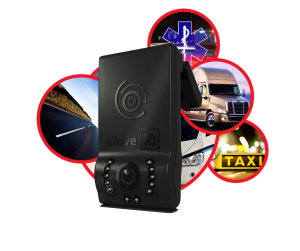 If you are looking to increase safety, security and efficiency of all vehicles in your fleet you need the latest iDrive Fleet Surveillance Camera. There are so many different applications for the iDrive, including tow trucks, taxicabs, and any other form of transportation. No matter what industry you're in, the iDrive Fleet Surveillance camera offers a world of new ways to safeguard your precious commodities and assets from otherwise unseen threats. In fact, it is considered one of the most technologically advanced ways you can protect your vehicles and other commercial property. 
Allow us to answer some of the most commonly asked questions about the iDrive Fleet Surveillance Cameras.
What Does The Fleet Surveillance Camera Offer? 
First and foremost, these nifty compact cameras do a lot more than offer video recording in real-time. Each iDrive camera is packed with GPS, video storage over wireless network, and smart incident detection. This camera will keep your valuables safe and your employees safe too, say for instance they are in an un-witnessed traffic accident and need proof of who or what hit them. This also grants employers the unique opportunity to see how individual members of the team react when presented with unfortunate circumstances. This offers valuable control over safeguarding your business from outsiders as well as unsafe employee practices.
Who Is The Best Candidate For This Camera?
Anyone with a fleet of vehicles is going to benefit from the iDrive camera system. Your vehicles are valuable and so are the things you transport, from monetary goods to your hardworking employees. Taxicabs, semi trucks, any sort of vehicle can be easily outfitted for heightened security with one of these high-tech recording devices. 
Is The iDrive Recording All Of The Time?
This camera is built to efficiently record events at the most crucial moments. Upon sensing an emergency the camera begins storing data recorded 15 seconds before and after an accident. This works because the camera is constantly recording but instead of saving everything, and making it rather difficult for you to identify the actual incident, the camera is programed to only save 15 seconds prior to and 15 seconds after an accident. 
As a result, managers can easily locate the important footage they need without having to go through hours of unimportant footage. Plus, this allows the footage to use up very small amounts of hard drive space. All videos are stored in the same easy to locate place. It is equally convenient to extract these videos to another platform for further use or investigation.
Does The Camera Have Wi-Fi?
The iDrive does operate on Wi-Fi when it is available. When in an area with Wi-Fi the camera will automatically record and upload the data in real time to the central home database. This means anyone at 'home plate' can see what is going on in real-time out on the road or in the parking garage.
Will This Camera Save Me Money?
Every investment your business makes needs to be beneficial and literally pay for itself over time, otherwise it's not a valuable use of company assets. The iDrive fleet surveillance system pays for itself time and time again. Companies that have already installed the technology on their vehicles have experienced a great deal of cost savings in regards to insurance premiums and claims.
Since iDrive cameras are built to last a long time they won't just save you money and hassles this year, but for many more years to come.
If you want to protect your fleet of vehicles there is no better way to do so than with the iDrive camera. Contact Highland Wireless today to set up an appointment with one of our specialists to learn more about this high-tech form of affordable security.