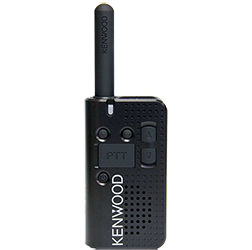 The options are endless in regards to accessories you can purchase for your Kenwood two-way radio to improve efficiency and convenience. The options are so vast it can actually get a bit overwhelming and confusing. Here are some of the top-rated Kenwood radio accessories to help narrow down your search.
Speaker Microphone With DSP Voice Enhancement Technology
This microphone speaker on this Kenwood two-way radio accessory is made with cutting technology in order to remove unwanted sound and improve communication. It is the perfect accessory for extremely noisy job sites, such as the environments encountered by emergency crews and industrial workers.
The DSP signal analysis allows the microphone to adapt depending on the level of sound in a given environment, ensuring the clearest line of communication possible. Thanks to the "voice enhancement" feature people are able to communicate at noisy sites where two-way signals would otherwise be impossible to interpret. Other features this speaker comes with include noise-canceling active LED, tactile PTT, emergency orange recessed PF key, high/low volume voice control, one-touch channel access, 360-degree rotating clip, and more! (Reference)
Kenwood Spring Action Belt Clip
This popular item includes a belt clip replacement for most Pro Talk two-way radios. This clip is made to reduce the wear and tear placed on the radio. Most users report that the belt clip fits perfectly and works great, just as expected. Your radio will remain secure in place and easy to access, regardless if you attach the clip to your belt or a bag. This product is described like a cell clip because it does not include a hinge. (see here)
Kenwood KMB-28 6 Unit Charger Adapter
For around $200 you can purchase a unit charger adapter that can charge many different units all at once. This particular model comes with 6 adapters and the space for 6 charging trays. If you need to charge a lot of two-way radios at once this is a great way of doing so. If all two-way radios go back in the same charger at the end of the workday, this works as a good way for a manager to take inventory and ensure all radios are properly charging for the next day of work. The most common cause of a radio not working is due to improper placement on the charger. If all radios retire in the same tray it's easier for a supervisor or peer to notice if one is not charging. (As shown here)
Kenwood Water Resistant Bag
By placing your two-way radio in this water resistant bag you prevent the possibility of water damage. This accessory is only necessary if you do not purchase a waterproof radio, and many models available are water resistant. (See here)
Kenwood Handheld Control Head
This Kenwood accessory is a remote control enabled control head you attach to your two-way radio. As a result, you can use the attachment as a microphone speaker with volume control. Users love this nifty device because of the range of volume it allows, as it perfects each and every message. While other microphones on the market might cost a little less, it's not worth the small savings. This device has great sound quality and unmatched volume control that makes it worth every penny. Plus, Kenwood offers a variety of different sized remote control heads. (Shown here)
Heavy Duty Noise Reduction Headset
Heavy-duty noise canceling Kenwood headset provides noise reduction for clearer communication. The headset includes a boom microphone and in-line PTT. This headset is large, which isn't ideal for all industries or personalities. Kenwood offers more compact headset options as well; your choice between the two comes down to preference. (See here)
Kenwood 3.5mm Earphone Kit
If you are looking for a headset that is less invasive than the one mentioned above, there are plenty of smaller headset options. The KEP-1 3.5mm earphone kit is just one example made by Kenwood. The headset is compact but still includes a fully functional speaker and microphone. The one thing you will lose is the noise canceling quality of the larger headset. (As shown here)
Wall Mount Bracket For Two-Way Radio
If you want to mount a wall bracket for two-way radios this is the perfect option. You simply purchase the model bracket that fits your Kenwood radios and with a few screws you have a convenient new place to store radios. The only bummer is that the wall brackets do nothing in terms of charging radios. (Mount Bracket)
Two-Way Radio Nylon Case
A case protector made to fit your particular Kenwood two-way radio model offers a great way to keep your gear safe and on your person. Plus, this case has a clip that can attach just about anywhere, from your clothes to a bag, so that you can quickly access your two-way radio when needed. (Shown here)