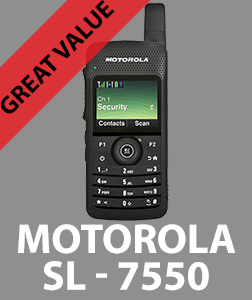 Motorola business two-way radios come in all shapes and sizes, but they are all made to support the unique needs of corporate operations through durability and advanced features. Finding the right Motorola radio system will keep everyone within your workforce connected and communicating, meaning you are ready to take on any challenges that come your way. Time and time again businesses set up two-way radio systems only to find they save more money than expected while also increasing workplace efficiency. There are Motorola radios designed for different industries such as hospitality, manufacturing, retail, transportation, delivery, public service sectors and so forth.
Motorola Radios Are Built As Strong As Your Business
Motorola radios are built to withstand the conditions present at any job site. Motorola ensures any two-way radios that hit the market are capable of handling all sorts of wear and tear. In order to make this sort of guarantee Motorola heavily tests radios to ensure they are strong enough to handle any job site. As a result, these radios are built to last no matter how dusty, dirty, wet or rough a job site gets. In fact, U.S. Military Standards and Accelerated Life Testing approve all Motorola radios.   
Radios Made To Handle The Most Important Situations
If you work in law enforcement, security or emergency response every last second counts. That is why Motorola makes radios that are able to quickly communicate in a number of ways so that everything is handled on time and no serious issues have a chance to arise. Motorola two-way radios are used in big corporations, government work, as well as family-owned transportation operations. All of these businesses have one thing in common: they need two-way radios they can rely on to handle a variety of important day-to-day scenarios.
Commercial Vs. Professional Radios
Every business has a unique set of needs regarding two-way radios. Based upon these diverse specifications there are different model options. No other radio manufacturer provides a larger selection of models that operate with the highest efficiency standards.
Commercial radios are generally easy to use and ideal for smaller operations such as restaurants, high schools, construction sites and delivery operations, just to name a few.
Commercial radio qualities include:
Easy to use features that foster teamwork and communication.

Compact models easy to carry around on a job site without getting in the way.

Options for models with or without a display screen or keypad.

The option to add a radio repeater for wider radio range as needed, either due to the need for greater distance or due to obstructions such as buildings or trees in the area.

Voice activation options enable you to communicate hands free.

Compatibility with a variety of audio and carrying accessories.
Professional radios are geared for more complex communication. Instances when professional radios are ideal might be for college campuses, utilities and public service operations, as well as resorts or manufacturing warehouses.
Professional radio qualities include:
The most robust solution.

A range of signaling and scanning options.

Safety features that help you better operate in hazardous work environments.

A large number of channels to choose from in order to organize and communicate between large groups of employees.

Data applications for improved efficiency such as GPS location tracking and text messaging.

Option board capability that allows the implementation of customized applications.

IMPRES audio

Energy-saving solutions 
Wide Range Of Motorola Models
Motorola has numerous options available for your business, regardless if you need a basic radio or a high-tech radio capable of far more than just push-to-talk.
More basic options include Motorola's CP-200D, which does not have a screen or GPS but is incredibly powerful and reliable. Push-to-talk ID and selective call are matched with hardcore hardware that can stand up to dirt, dust, water, impact damage and just about anything else.
There are also more advanced options such as Motorola's XPR-7550, which includes a full color LCD screen, Bluetooth and GPS capabilities. Even with so many added bells and whistles this nice-looking radio offers all of the durability less technologically advanced models offer.     
Rent Or Buy Motorola Two-Way Radios From Highland Wireless
You have more options than ever when it comes to Motorola two-way radios for business use. You may purchase your radios up front or rent all of the radios and necessary equipment for one low monthly fee, starting at only $39 a month.
If your radios are ever broken or in need of repairs send them over and we will fix them right away, free of charge in almost all instances. We will also give you a temporary replacement radio in the meantime so that you never miss a beat.
Highland Wireless is the leading two-way radio specialist in Florida. Contact us today to learn more about our affordable Motorola radios available for purchase or rent.